TV shows you need to watch if you're in the forces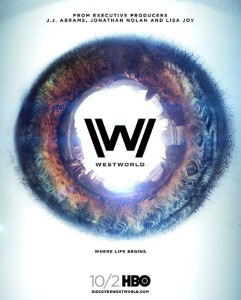 If you're in the Armed Forces, you're probably a fan of a bit of action when it comes to TV shows. Whether you like classic action scenes, a sci-fi element or a touch of horror, there are some great shows out there that will fit your tastes.

When you get a chance to relax, here are five shows that you should definitely start watching, if you haven't already:
Westworld
This show has just finished its first series on Sky Atlantic and has received critical acclaim, for good reason. With an all-star cast, including Anthony Hopkins, James Marsden, Thandie Newton and Ed Harris, the show would have been pretty good even if the premise wasn't.
As it is, the plot, characters and action are all brilliant and will have you hooked after the first episode.
The show is about a theme park called Westworld, set in the old west. It is populated by robots called 'hosts' who don't know that they aren't alive. People pay thousands of pounds a day to go to the park, have adventures and even shoot hosts. Everything is created to allow the 'guests' to live however they want.
Not only do things happen within the park itself, but not everything runs smoothly behind the scenes either. There's plenty to keep you entertained as you try to work out what is going on, with a lot of action thrown in too.
Walking Dead
If you haven't started watching the Walking Dead, you have a lot to catch up - although we won't pretend that series two is worth catching up with. The show is about a zombie apocalypse - although they never call them zombies - and a small band of survivors trying to find somewhere safe.
There's a lot of death, gore, frights and action. Some episodes will keep you on the edge of your seat and plenty of the scares don't play out as you expect them to. Based on the comic book of the same name, there are plenty of reasons why this show has become a global sensation.
Daredevil
This Marvel series is a Netflix original and is definitely worth the subscription. Seriously, if you haven't watched it yet, you need to sort that out right now. The superhero series is nothing like the disappointing film, offering a darker, grittier take on the story that is complete with some of the best fight scenes in recent years.
Season two is just as good - if not better - as series one, so you can rest assured that it is definitely worth watching all the way through. If you're a fan of Marvel, this needs to be at the top of your list to watch, so make some time for it.
Jessica Jones
It isn't just the guys getting in on the action, as proven by Jessica Jones. Another Marvel show made for Netflix, this series got rave reviews and for very good reason. Starring Krysten Ritter as the title character and David Tennant in his creepiest role ever, you won't even need to finish the first episode before you decide that the series needs to be binge-watched.
The second series is currently being filmed so there's more to come, but the first series is absolutely brilliant. It follows detective Jessica Jones who has super strength as she tries to fight Killgrave, the man who can bend anyone to his will with just his voice. There are some great fight scenes and plenty of twists to keep you entertained.
Peaky Blinders
Fancy a bit of historical action on your TV? You can't do better than Peaky Blinders. Even if you don't like period dramas, this show about street gangs in London during the 1920s will have you hooked in no time.
With crime, action, great side plots and Cillian Murphy being a general badass, there's not a lot you won't love about Peaky Blinders. You never know, this might be the show that gets you into historical dramas.
Subscribe to the News RSS feed
21/12/2016 09:08:00 (updated )